17.03.2017
The US$15.7 billion (€14.8 billion) valuation of the European fastener demand comes from a media release 'Global industrial fastener market 9th edition'from Freedonia. The report provides the chart showing the world distribution of demand by major markets.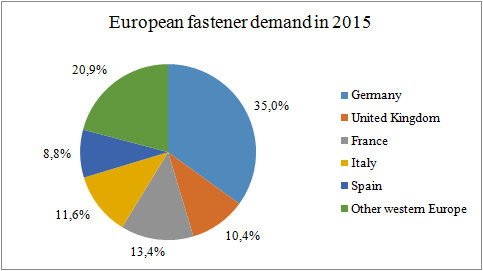 According to Freedonia, aerospace fasteners amounted for around 11 % of Western Europe demand but the share was higher than in France and the U.K. In terms of the report the world fastener demand is valued at US$ 69,6 billion in 2015. The demand of China, the U.S.A, Japan, Germany and Taiwan was accounted for two thirds of global fastener output in 2015.
It is forecast that the Asia-Pacific region will account for the largest share of world fastener sales in 2020 as it made 42% of the total sales. It is also expected that industrialization development will stimulate rapid fastener growth in Africa and the Middle East, though the region's share will remain small.
Growth of fastener sales in North America and Western Europe will advance more slowly than the global average, limited by the maturity of most fastener markets in these regions.
Fastener demand in Central and Southern Africa is forecast to return to growth in 2020. Automotive fastener demand will account 28% of the total volume by 2020.
Freedonia expects aerospace fasteners to record the fastest growth between 2015 and 2020. The share of standard fastener sales will account 90% of the total volume in 2020.
Source: Freedoniagroup
March 17, 2017